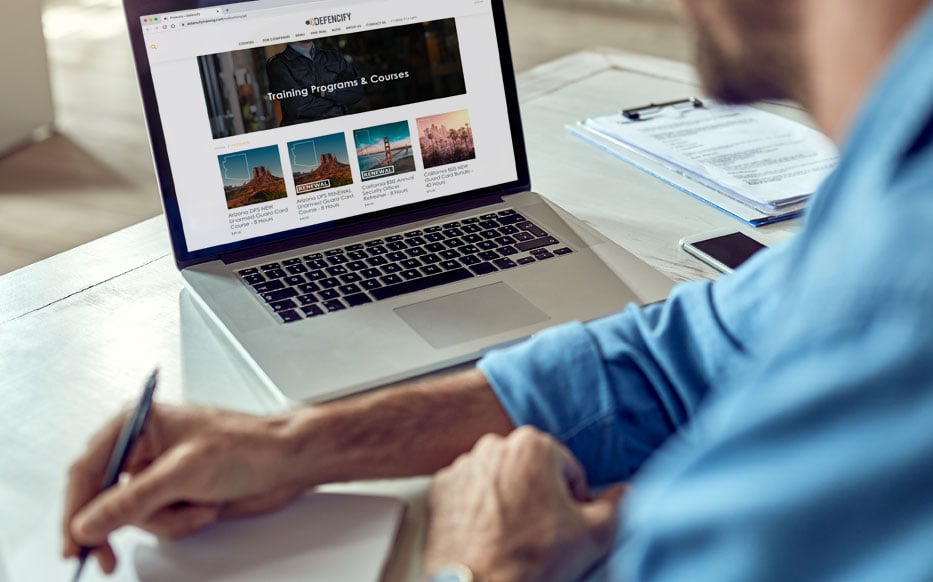 Hiring
Make Customized Online Orientation Training Part of Your LMS With Defencify
Dozens of security guard firms across the country trust Defencify for their security officer training and certification needs. Defencify training modules are guaranteed to meet state licensing requirements and can be customized to reflect your brand and corporate values. Our library of self-paced, online training courses is designed to get your security guard candidates into the field faster.But sometimes there's a delay as new hires are required to attend a company orientation class before getting placed on assignment. These sessions usually cover a history of the company, its policies toward workplace discrimination/harassment, attendance/sick leave/vacation, grooming/appearance, benefits, safety, substance abuse, etc.

Often, these sessions also include a short speech from the president and/or high-level executives on company vision and employee expectations.
Even if new employees completed their training online, these orientation classes are often held as in-person events. That could mean waiting for a minimum number of new hires to come on board to justify a class, or waiting until the CEO has time in her schedule to squeeze in an appearance for a welcome message. Defencify asks, Why wait?
Why not use the same self-paced, online customizable methods used to train new employees to deliver customized online orientation classes? Eliminate the delays for employee orientation. Present all necessary onboarding information to new employees remotely immediately upon receiving their Guard Card.

Simply provide Defencify with the necessary multi-media assets…
A slide presentation or notes covering the company mission statement, employee orientation topics, and workplace policies


Company logos, images, and photographs for branding purposes


Downloadable versions of required paperwork such as payroll and tax forms, insurance applications, vacation request forms, the Employee Handbook, etc.


Recorded video messages from the president/CEO, the head of HR, even client testimonials, to set the tone for what it takes to be a member of the team and our team of instructional designers will transform them into an interactive, branded online orientation training module complete with built-in knowledge checks to ensure active participation.
Deliver the same welcome message every time, to every new employee, tailored to your organization's values, and reflecting your company brand. Free up executives' time from reiterating the same speech to every class of new hires. Ensure consistency of message and the topics covered – and confirm that the information has been understood through feedback.
Stop delaying orientation classes until a minimum of new hires are ready to justify a class. What about the new employee who lives hours from the nearest office? Self-paced, online training can be extended to orientation content to get new hires into the field and earning faster.
With Defencify, employee orientation can be a seamless part of your firms' entire learning management system (LMS) to further smooth the onboarding process from employee application to assignment in the field.
Need to update, add, or delete information? It's easy for us to modify content to reflect changes to company policies and post a refreshed orientation module to your LMS, making updates virtually effortless on your part.
Make new employee orientation part of your self-paced, remote training curriculum. Contact Defencify to learn how we help get new hires into the field faster with customized orientation solutions.