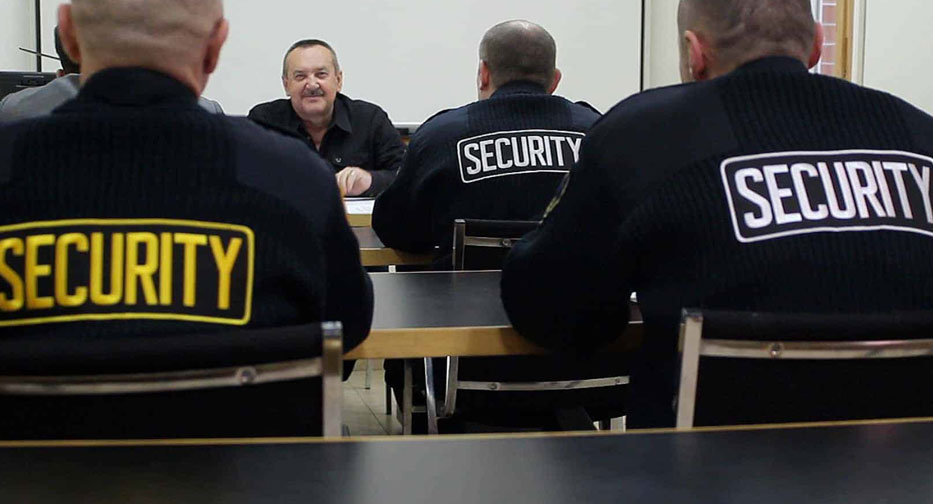 Hiring
Streamline Security Guard Orientation Training with Defencify
You found them, hired them, and shepherded new hires through the unarmed security guard training and licensing process. They're almost ready for assignment; just one thing left to do: new hire orientation.
While not a legal or state requirement, most security guard firms will not deploy new hires until they attend company orientation training.
This is when employees learn and ask questions about the in's and out's of company policies regarding performance expectations, payroll and job posting schedules, vacation and sick time, grounds for dismissal, proper appearance while on shift, and even rules for facial hair. They will fill out forms for employment, direct deposit of paychecks, healthcare benefits (if offered), and emergency contact information. They will pick up their uniforms, equipment, and employee handbook.
Often, the final piece of the orientation puzzle is an inspirational welcome message delivered by the owner, president, or a high ranking HR executive about company culture, values, and what it means to be a part of the team.
Orientation training is not about how to be a security guard, it's about how to be a security guard for your company. It helps build employee engagement, makes new hires feel welcome, and reduces stress about starting a new position.
If your firm approaches security training in the traditional sense, meaning live instructor-led classes, then that probably means 1) you are waiting reach a minimum number of applicants before scheduling a new hire class, and 2) one of your C-level executives has to block time out of their busy calendar to periodically deliver the same closing orientation speech to a new class of recruits.
If your firm approaches security training using remote online eLearning technology, this is your opportunity to add orientation training to the catalog of courseware available to new hires through your learning management system (LMS).
Treat Security Guard Orientation the Same as Other Training Modules with Defencify
With the Defencify self-paced online training platform you no longer wait to gather enough students to fill a classroom. Every applicant can begin the training immediately upon hiring and proceed through the course at their own pace, on their own device, and at the time and place of their choosing.
Why not extend that consistency and convenience to orientation training? Why delay new hire deployment? Relieve upper level management of the responsibility for delivering a live company culture presentation to every crop of new hires with an online orientation module.
Together with a Defencify instructional designer, we'll transform your current live orientation content into an engaging, self-paced online module that new hires are free to take as soon as they have completed their training for a Guard Card. Every new hire gets the same experience.
Record videos of C-level executives delivering welcome and company culture messages, so they only have to do it once. Walk new employees through company HR policy and procedure details. Provide editable PDFs of all the employment application, W-9, time sheet, vacation request, and similar forms so they can be completed and filed electronically. Include frequently asked questions and How To/Company Resources/Meet the Team sections. Show illustrated examples contrasting proper versus inappropriate uniform dress. Include a digital version of the employee handbook to save paper. Outline next steps, such as the exact office to report to on Day 1, a list of equipment that will be provided, and any items the employee is responsible for bringing to the job, for example.
Not only can Defencify streamline orientation training by building courseware with content customized to your firm's culture, but we'll also match the look and feel of the module to your company branding so it appears as a native addition on your LMS.
Sure, new employees will still have to come into the office to pick up their uniforms and equipment, and perhaps get additional site-specific training before being assigned to a post. But an online new hire orientation training module will allow security guards to get into the field faster and free executives to tend to other areas of the business while ensuring everyone gets the same on-boarding treatment.
Don't let that last bit of orientation training stand between your new officers and their first assignment. Let your new hires hit the ground running with Defencify. Visit us at www.defencifytraining.com to learn more about how we can build a customized online orientation module for your contract security firm.